Crumar Instruments
Bit 01
Bit One
Bit 99
Brassman
Compac
Compacstring
Composer
DS-1
DS-2
Jazzman
Multiman/Orchestrator
Organizer 2
Performer
Polytron
Spirit
Stratus
Stringman
Trilogy
Synthephone
Unique DBM


---


Crumar Stratus
Manufacturer:
Crumar

Model:
Stratus

Production period:
1982-85

Quantity produced:




Also: - An early Stratus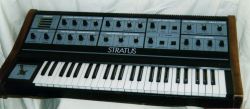 owner: Daniele Marziali

Featuring a string, brass and organ polyphonic sounds, the Stratus is a simplified little brother of the Crumar Trilogy, with a 4-octave 49-note (C-C) keyboard. The Organ section features sliders for 2', 4', 8' and 16' octaves. The synth section features two oscillators which can be tuned separately and synced. Waveforms are switchable between sawtooth, square, or a mix of the two, with a switch for "Alternate Saw/Sq" and another one for mono or multi (polyphony). Glide is also available.


A closeup of the front panel.
The filter section features controls for envelope (off, full, and 2/3 full), cutoff frequency, resonance, and a single/multiple envelope triggering switch. The envelope generator is an ADSR with knobs for each stage. There are separate volume controls for the synth section and the organ section. The LFO can be routed to the VCOs, the VCF or the VCA. Available waveforms are triangle and square. There is a knob controlling rate and depth, and a simple ramp generator, controlling how fast the modulation affects the sound, with knobs for slope and delay. Earlier models had a button to the left of the keyboard for modulation. Later models, like Daniele Marziali's (see above), replaced this button with a joystick controller. Also in later models the "Voltage Controlled Filter" and the "Envelope Generator" sections are labeled in plural as "Voltage Controlled Filters" and "Envelope Generators". The font used for the name is also changed in later models.