Jen Instruments
Musipack
SX-1000
SX-2000
Synx 508


---


Jen SX-1000
Manufacturer:
Jen

Model:
SX-1000 (Synthetone)

Production period:
1978-82

Quantity produced: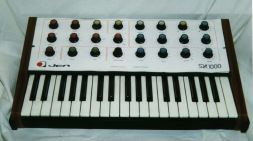 above photo from the collection of Daniele Marziali
The SX-1000 is a monophonic synthesizer with a 3-octave, 37-note, (C-C) keyboard and a black or white front panel (they came in two colors). Also called the "Synthetone", the SX-1000 features a single DCO (digitally controlled oscillator), with a four octave range (32', 16', 8', 4') and three available waveforms, sawtooth, square, and PWM (Pulse Width Modulation). White and pink noise are also available, as well as portamento/glide. The filter is 12dB/octave. There are two ADSR envelope generators and one LFO. The knobs on the SX-1000 are color coded, however the color inserts "tend to fall off".
[from The A-Z of Analogue Synthesizers, by Peter Forrest, published by Susurreal Publishing, Devon, England, copyright 1994 Peter Forrest]
Altern 8, Eskimos & Egypt, Fillmore, Future Sound of London, LFO, Man Machine
[Let us know if you have any further additions to this list.]