Hazelcom Instruments
McLeyvier
---


Hazelcom
Hazelcom Industries is a company put together by David McLey to manufacture and market his instrument, the McLeyvier.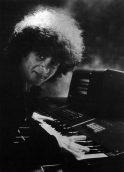 "McLey was born in Missouri [USA] and at an early age became an accomplished pianist. By the age of twenty he was performing concerts in the city of Chicago where he was studying. Even though electronic music was still in its infancy, Mcley, with a parallel interest in electronics, was constructing his own synthesizer.... By 1969 McLey was giving electronic music concerts in the avant-gard style on conventional synthesizers and it appeared that his career as a pianist was becoming less and less of a priority. After moving to Toronto in the early '70s McLey put together one of the city's first electronic music multitrack studios. ...As the president of one of the busiest recording studios in Canada, [in 1982] McLey and his company [were] ready to roll.
"The development of a computer music system (CMS) does not happen overnight; it takes years of design and performance testing. Once the instrument was designed and ready to be built, McLey looked around for the technical assistants he would need. A few of them came from the University of Waterloo and others from experience working in the commercial computer industry." In 1982, there were "over twenty people involved with Hazelcom Industries. The atmosphere they work in is one of relaxed concentration and there is a feeling that these people might be considered slightly 'renegade' in comparison to the rest of the computer world. Along with research, development and production is a marketing team whose purpose is to tell the world about the McLey Music System (MMS) and to secure purchase orders."---[image and text from Canadian Musician, April 1982, courtesy of Norris-Whitney Communications, Inc.]
Although the marketing team did a great job at the first task, with a flurry of advertisements and trade show appearances, they were unable to pull off the second. The McLevier only sold to a few artist (including Laurie Spiegel) and by 1983, Hazelcom was no longer. "Priced between $15,000 and $30,000 depending on the options, the McLeyvier appeared at successive trade shows as the 'Interactive Music Processor' and the 'Amadeus', before sinking without a trace. 'With the indomitable spirit of David facing Goliath,' in the words of the press release, Hazelcom proved itself not quite up to the job."
[excerpted with permission from the book Vintage Synthesizers by Mark Vail, copyright Miller Freeman, Inc]