Roland Instruments
Alpha-Juno 1
Alpha-Juno 2
Boss DR-55
Boss DR-110
Boss DR-660
CM-32L
CMU-800 CompuMusic
CMU-810
CR-68
CR-78
CSQ-100
CSQ-600
D-5
D-10
D-20
D-50
D-110
E-20
EM-101
GR-300
HS-10
JSQ Sequencers
Juno-6
Juno-60
Juno 106
Jupiter-4
Jupiter-6
Jupiter-8
JX-3P
JX-8P
JX-10 (Super JX)
MC-4
MC-8
MC-202 MicroComposer
MKS-7 Super Quartet
MKS-10 Planet-P
MKS-30 Planet-S
MKS-50
MKS-70 Super JX
MKS-80 Super Jupiter
MKS-100
MSQ-100 Sequencer
MSQ-700 Sequencer
MT-32
PG-200
PG-300
PG-800
Pro-Mars (MRS-2)
RS-09
RS-101
RS-202
RS-505 Paraphonic
S-5
S-10
S-330
S-550
Saturn 09 (SA-09)
SH-1
SH-2
SH-3
SH-5
SH-7
SH-09
SH-101
SH-1000
SH-2000
SPV-355
System 100
System 100m
System 700
TR-66
TB-303
TR-505
TR-606
TR-626
TR-707
TR-727
TR-808
TR-909
U-110
VP-330 Vocoder Plus



---


Jupiter-4
Manufacturer:
Roland

Model:
Jupiter-4 Compuphonic

Production period:
1978-81

Quantity produced: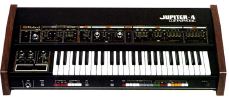 image courtesy of Kevin Lightner
The Jupiter 4 Compuphonic (known to most of us as just the Jupiter 4) is a four-voice polyphonic synthesizer with an arpeggiator and a 49-note (C-C) keyboard. It has 8 user-programmable memory locations and 10 preset patches with names like "Piano" and "The Force". The buttons for patch changes are in the front of the keyboard, underneath the keys. Each voice consists of a single VCO with sawtooth, square, or square with Pulse Width Modulation (PWM) and a suboscillator that can be switched on or off. There is also a noise generator that can be switched on and off. Like the suboscillator, it has no level control.
The Jupiter 4 can be put into mono mode which stacks all 4 oscillators on each note, creating a very thick, although monophonic, synth. The filter section consists of a high pass filter and a low pass resonant filter. The Jupiter 4 has two ADSR envelopes, one for the filter which can be inverted, and another for the VCA. It also has one LFO, switchable between sine, square, ramp up and ramp down waveforms. The LFO can be routed to the VCO, the VCF, the VCA, or PWM. Although some say that the LFO rate on the Jupiter 4 is the slowest of any production keyboard, it also can modulate up into the audio frequencies (around 100 hz), making it very flexible. Only the filter can be modulated by a sample and hold function of the LFO labeled as "VCF mod" in the filter section.
The Jupiter 4 has a built-in chorus, a single on/off switch labeled "ensemble". Its arpeggiator is a fixed range running the length of the keyboard. However, there is a click input to sync the arpeggiator to an outside source. The click input can also be used to trigger filter modulation. This input and a cv input for the VCF were the only interface available with the Jupiter 4. It has no keyboard cv/gate input. It is possible to overdrive the Jupiter 4's VCA. When you do this a little light comes on to let you know.
[information compiled from the archives at Hyperreal]
Aurora, Jupiter-4- 808 State, Duncan Bridgeman, Vince Clarke, Depeche Mode, Thomas Dolby, Electronic Dream Planet, Human League, Brian Kehew and Roger Manning of The Moog Cookbook, Kitaro, Ruediger Lorenz, Masterworks, Meat Beat Manifesto, Neruonium, Gary Numan, Elizabeth Parker of BBC Radiophonic Workshop, Nick Rhodes, Tim Souster, Spoons, Tangerine Dream, Tears for Fears, Tomita, Trans X, St. Etienne, Steve Winwood, Stevie Wonder, Vangelis, Yazoo
[Let us know if you have any further additions to this list.]