ARP 2600 "Grey Meanie"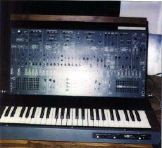 image courtesy of Kevin Lightner
ARP 2600, ARP 2600 Brochure (courtesy of Kevin Lightner), ARP 2500 modules
A few "Grey Meanies" (at least two) exist. Shown here is one of them. It was a cross between the "Blue Meanie" and the normal 2600. The keyboard sold with the "Grey Meanie" came with a handle on its keyboard matching the one on the synth. This one is now in the London Synth Museum.
Back to main 2600 page