ARP Instruments
16-Voice Electric Piano
4-Voice Electric Piano
2500
2600
Avatar
Axxe
Centaur
Explorer 1
Little Brother
MSL (Educational keyboard)
Odyssey
Omni-2
Pro/DGX
Pro Soloist
Quadra
Quartet
CBS/Rhodes Chroma
Sequencer
Solina String Ensemble
Solina String Synthesizer
Solus


---


ARP 2600
Manufacturer:
ARP

Model:
2600

Production period:
1970-81

Quantity produced:
3,000



Also:
- ARP 2600 "Grey Meanie"
- ARP 2600 Brochure (courtesy of Kevin Lightner)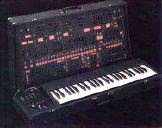 image courtesy of Kevin Lightner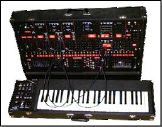 image courtesy of Atmosfear
History
"ARP's founder, Alan R. Pearlman, recognized the importance of teaching musicians how to use the technology, so he designed a new instrument with a fixed selection of basic synthesizer functions. This instrument, dubbed the Model 2600, was an integrated system with the signal generating and processing functions in one box and the keyboard in another. The functionality was borrowed from the original ARP modules [from the 2500], but instead of using matrix switches (which were expensive and bulky) for patching, Pearlman devised a system of factory-installed 'normal' connections between the modules. These connections could be added to or replaced by patch cords. Thus, a beginning user could work the system relatively simply. When the user desired to develop more complex sounds, patch cords could be added as needed.
"Pearlman believed that schools with small or medium-sized music departments were the main market for this new instrument. To further enhance the 2600's educational value, Pearlman put the graphics on the console's front panel so that the signal paths were easy to follow, and used sliders and slide switches so that the control and switch settings were easy to see. The first production run had blue panels, painted sheet-metal cases, and polished wood handles. 'That's not what I wanted,' Pealman recalls. 'I wanted the instrument to be housed in a rugged case that would travel safely. But those were the days when nobody listened to you if you were over 30, so the young designer had his way.' Musicians and retailers however quickly shot down the 'Blue Marvin' or 'Blue Meanie' design in favor of the vinyl-covered luggage-style case with the dark gray panel that remained in production from 1971 to 1981."
[excerpted with permission from the book Vintage Synthesizers by Mark Vail, copyright Miller Freeman, Inc]
The Meanies
Between 50-100 "Blue Meanies" were built in a garage before the ARP plant was open. They were very hard to service due to their all aluminum construction. They had a wooden bar across the top for carrying. They were sold with a keyboard. A few "Grey Meanies" (at least two) exist. They were a cross between the "Blue Meanie" and the normal 2600. The keyboard sold with the "Grey Meanie" came with a handle on its keyboard matching the one on the synth.
808 State, Aphex Twin, Tony Banks - "And Then There Were Three", The Beloved - a mark I version, Peter Baumann of Tangerine Dream, Paul Bley, Michael Boddicker, Arthur Brown, Richard Burgess, Chemical Brothers - used on Dig Your Own Hole, Vince Clarke, Mike Cotten with the Tubes, Steve Cunningham, Mickie D, Jack Dangers of Meat Beat Manifesto, Elemental on their albums Lux Aeternae and Thee Divine Imagination Steve Hill of Bloodrock, Jean-Michel Jarre, Depeche Mode, Electronic Dream Planet, John Entwistle - of The Who, Brian Gascoigne, Miquette Giraudy with Gong, Roger Glover of Deep Purple ("I bought my ARP 2600 sometime around 1972 or 73 and it can be heard prominently on an album I released in 1974 called The Butterfly Ball. In 1975 we performed The Butterfly Ball at the Albert Hall, London and my ARP 2600 was right there. I just wanted you to know." - Roger Glover), Herbie Hancock, Steve Hillage, John Hollis, Steve Howell, Jackson Five - used on Rock Me and others, Bob James, Jean Michel Jarre - "Zoo Look", Brian Kehew and Roger Manning of The Moog Cookbook, Praga Khan of the Lords of Acid, Joy Division - "Closer", Klaus Shultz, Kool and the Gang - used on Summer MAdness, Metro LA, Steve Levine, John Lennon, Lightwave, Lisa (as a child), Dave Macrea, Tony McPhee, Daniel Miller, Kaus Netzie, Nine Inch Nails - Trent Reznor, Nitzer Ebb, John McEntire of Tortoise, Mike Oldfield, Orbital, Steve Pocaro, Roger Powell, PiL - "Flowers of Romance", Rebirth, Steve Roach, The Royal Opera House - in 1976 for thunderstorms, tub-boat whistles, and red-hot swords being plunged into water, Phil Sawyer - triggered the ARP with his heartbeat for the composition "Titanic" on the 1971 Paul Kantner/Grace Slick album "Sunfighter", The Shamen, Skinny Puppy, Pete Townsend - The Who "Who are You", Ultravox, Ian Underwood for Frank Zappa, Underworld - x2, Vince Welnick with the Tubes, Edgar Winter - "Frankenstein", Stevie Wonder - sometimes with a voice-box, Xpando, Joe Zawinul - usually played two with Weather Report (one for each hand), Zim Zum of Marilyn Manson
[Let us know if you have any further additions to this list.]