E-mu Instruments
Audity
EII
Emax
Emulator
Modular
---


E-mu Modular
Manufacturer:
E-mu

Model:
Modular

Production period:
1972-81

Quantity produced:
approx. 100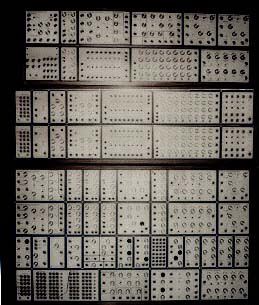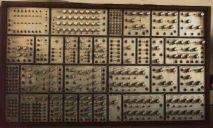 images courtesy of Kevin Lightner

"Although they had the needs of hobbyists and experimenters in mind, Dave and Scott produced designs that were fully professional. The module panels were made of heavy, rugged aluminum, and the panel components were made of high quality, heavy-duty parts. Connections between modules were established by full-sized audio patch cords [1/4 inch jacks], and the user could install firmwire connections that went into effects when the patch cords were not used."
[excerpted with permission from the book Vintage Synthesizers by Mark Vail, copyright Miller Freeman, Inc]
Each modular was custom configurable and hand assembled, made to order. The modules were 6 inches high and a multiple of 3 inches wide.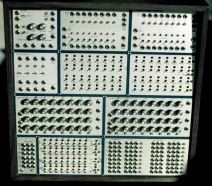 John Adams - clasical composer, Vince Clarke, Darryl Dragon of the John Kay Band, Patrick Gleeson - "Beyond the Sun" (a 96 oscillator set-up!), Herbie Hancock, Roger Linn, Hideki Matsutahe, John McLaughlin, Martyn Phillips, Lenny Pickett of the Tower of Power, Leon Russell, Frank Zappa - he had one of the biggest systems, Hans Zimmer
[Let us know if you have any further additions to this list.]