PAiA Instruments
Gnome
Modular Synthesizers
2700
2720
4700
4700/C
4700/J
8700
P4700/C
P4700/J
Oz
Programmable Drum Set
Proteus 1
Stringz 'n' Things


---


Modular
Manufacturer:
PAiA Electronics, Inc., Edmund, OK, US

Model:
Modular Synthesizers (series 2700, 4700, and 8700)

Production period:
1972-83

Quantity produced:
1,500-2,000 of the 8700 series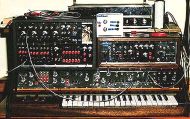 image courtesy of Kevin Lightner

John Papiewski built this PAiA modular in the late 70's.
Also: a wall of PAiA modulars, 4700/J
PAiA started selling Modular Synthesizer kits in 1972 with its 2700 series. The first ones, model 2700, used buttons for keys. They were followed by the 2720 which came with a keyboard. The series 4700 modulars came next with an improved, quieter design. The 8700 computer-based modular system was next, connecting a modular synthesizer to a 6502 processor, allowing for polyphony. According to John Simonton, PAiA Electronics, Inc., they "also had some compositional algorithms that would generate tunes on the 8700. There were a number of tricks."
[excerpted with permission from the book Vintage Synthesizers by Mark Vail, copyright Miller Freeman, Inc]
Brian Kehew and Roger Manning of The Moog Cookbook
[Let us know if you have any further additions to this list.]