Crumar Instruments
Bit 01
Bit One
Bit 99
Brassman
Compac
Compacstring
Composer
DS-1
DS-2
Jazzman
Multiman/Orchestrator
Organizer 2
Performer
Polytron
Spirit
Stratus
Stringman
Trilogy
Synthephone
Unique DBM


---


Crumar Bit One
Manufacturer:
Crumar

Model:
Bit One

Production period:
1984-86

Quantity produced:




Also: - Joseph Rivers' Bit One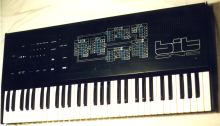 owner: Jay Williston, Boston, MA

serial #: BS00343
"The Bit One is a 6-voice polyphonic programmable touch-sensitive sythesizer, designed with microprocessor (computer) technology.
"In effect, the Bit One is the result of two computers working simultaneously, one is dedicated to the generation and manipulation of sound, ...[and] the second handle[s] the keyboard and the dynamic informations.
"The general characteristics of the BIT ONE are: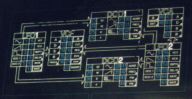 2 DCO, 6 VCF, 6VCA, 2 Envelope Generators and 2 LFO for each voice
63 user programmable presets
Key velocity sensitive keyboard
Double and Split Modes in order to have two different sounds simultaneously (the BIT ONE is bitimbric)
Instant Editing for all parameter's values [not true: the parameters have to be entered in via keypad]
Panel Lay-out designed to have simple and fast editing in live performance
Complete MIDI interface with other synthesizer, sequencer, rhythm unit and computer. [this is very incorrect, the Bit One has a poor attempt at MIDI]
Tape interface in order to record and load from tape all sound memory data
Pitch bend and Modulation Wheels."
[from Bit One Owner's Manual ---by Guido Dall'Oglio]



808 State, Tic

[Let us know if you have any further additions to this list.]