Korg Instruments
700
700CS
700S Mini Korg
707
770
800-DV
900-PS Preset
BPX-3
BX-3
CX-3
Delta
DS-8
DSS-1
DW-6000
DW-8000
EPS-1
ES-50 (Lambda)
EX-800
Keio Korgue
Lambda (ES-50)
M500 Micro-Presets
Mono/Poly
MS-10
MS-20
MS-20 Big
MS-50
Poly 61
Poly-61M
Poly 800
Polyphonic Ensemble 1000
Polyphonic Ensemble 2000
Polysix
PS-3100
PS-3200
PS-3300
SAS-20
Sigma
SQ-10 Analog Sequencer
Symphony
Synthe-bass
Trident MkII
VC-10
X-911


---


SQ-10 Analog Sequencer
Manufacturer:
Korg

Model:
SQ-10 Analog Sequencer

Production period:


Quantity produced:




Also:
- An SQ-10 ad courtesy of the archives at Hyperreal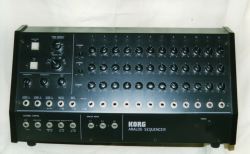 above image from the collection of Daniele Marziali
The Korg SQ-10 is an analog 3 X 12 sequencer, 3 channels of 12 control voltages. Each voltage is set by a knob and must be tuned independently, with a switch on channels A and B selecting range (-5/+5 volts or -1/+1 volt). Channels A and B are set up to be primarily used to control an oscillator, each with their own individual portamento controls and CV outputs, and both effectively connected to a single gate/trigger output. The triggers are of the +5V = OFF / 0V = ON type with a knob adjusting the pulse width (Duty Cycle). Channel C is designed to be used to control a VCA or VCF or to set note length for channels A and B (by routing the voltage output to the Voltage Controlled Clock).
The SQ-10 features trigger output for each step for individual triggering from steps or for inputting back to the sequence restart input, creating sequences from 1 - 12 steps long. A switch allows the sequencer to sequence these channels in a few different ways: Channels A and B played concurrently and repeated indefinitely or played only once, Channels A and B played consecutively and repeated indefinitely or played only once. The sequences can be synced to the Voltage Controlled Clock, an External Clock source (using the step trigger input), or by using the step button as a manual trigger (very useful when tuning). There is also an external trigger input for the start/stop control to start/stop via a footswitch or another clock source. The Voltage Controlled Clock has a very wide range, from very slow to extremely fast. There are buttons for Start/Stop and Step.
When set to play through a sequence only once, the SQ-10 can provide some amazing effects and can be used as a 12 stage envelope generator with or without ramping between the levels. Ramping is achieved by adjusting the portamento knob. Wave sequencing effects can also be achieved by letting one channel modulate the pitch which gives you an arpeggiator and another channel modulate the high and low-pass filter. If the portamento settings are zero then the result is abrupt changes in the filter settings which gives a nice rhythmic feel, by turning the portamento settings up a little bit you get nice smooth continous changes in the filter frequencies.
The SQ-10 also has a basic 2-channel analog mixer. However, it is without level knobs, it just sums the two inputs and sends them out.
Aurora, Phil Thorton
[Let us know if you have any further additions to this list.]