Multivox Instruments
MX-20
MX-30
MX-51
MX-65
MX-75
MX-S100 Sequencer
MX-150/Basky
MX-202
MX-440
MX-450
MX-880
MX-2000
MX-3000



---


MX-S100 Sequencer
Manufacturer:
Multivox

Model:
MX-S100 Sequencer

Production period:


Quantity produced: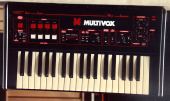 owner: The New England Synthesizer Museum, David Hillel Wilson, Curator

other synths in the New England Synthesizer Museum Collection
"Hey, what do you know? I actually have the schematics for this thing. With all the pretty controls and lights, you might be fooled in to thinking that this gadget is a synthesizer. The truth is, it doesn't make any sound at all! No VCOs, VCFs, VCAs, ADSRs, etc. All it is is a sequencer. Similar in many ways to the famous Oberheim DS-2 and DS-2a sequencers, this device can store up to 4 (short) sequences as entered from its built-in keyboard. Of course, there is a switch that lets you use it as one big sequencer rather than 4 little ones. It has two outputs; one for Exponential (Volts/Oct) synths, and one for Linear (Hz/Volt) synths. (If you can read the panel, you'll notice that it says Linear for Octaves/Volt; This refers to the sequencer output rather than the synthesizer; you must drive a linear synthesizer with the exponential output and an exponential synthesizer with linear output, thus achieving the all important exponentiation exactly once).
"This thing does about the same thing as a MIDI sequencer does today, only it has a comparably small memory which forgets everything when the power is shut off. If you have a MIDI-CV box then you don't really need this piece. It really is a museum piece, offering little if any advantage over a portable computer and MIDI-CV box."------ Dave Wilson