Some instruments from the New England Synthesizer Museum's collection
Ampron Aubade
ARP Little Brother
ATA Studio One
Buchla 112 touch keyboard
Electro-Harmonix Mini Synthesizer
EML Electrocomp 101
"White Elephant"
(the Moog Organ)
Multivox Sequencer
Oberheim 2-Voice
Octave Cat
Yamaha CS-01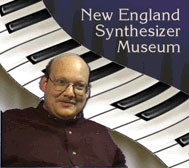 By Dave Wilson, curator of the New England Synthesizer Museum.
| | | |
| --- | --- | --- |
| | | |
| | News from the New England Synthesizer Museum | |
| | | |
"New England is made up of 6 of the 50 United States of America (also known as the Moognited States of ARPmerica, the land where the synthesizer was invented). These states are: Connecticut, Rhode Island, Massachusets, Vermont, Maine, and New Hampshire. The New England Synthesizer Museum is in Nashua, New Hampshire, but that's only part of how we got our name. The Moogs were built in New York, a state just outside of New England. The ARPs were built near Boston, the Kurzweil in Waltham, the Synclavier in White River Junction, the Aries in Peabody, all cities in New England. To top it off, Wendy Carlos was born in Rhode Island. Yes, a lot of wonderful things have been created in other places in the world, but I can proudly call New England, U.S.A., my home.

"The purpose of the Museum is to keep old synthesizers of every kind running to make them available to composers and performers. There is no charge for admission and you can bring your camera, camcorder, even your DAT recorder for no charge. (We do, of course, accept donations, which are tax-deductable). I teach people how to program and play synthesizers by letting people actually sit down and play them. Some people bring their synths here for repair and/or calibration. We've also done a few modifications, like putting MIDI on a Roland CR-78 drum machine. We've even restored the great ARP 2500 at Yale University, and I recently led a graduate workshop on electronic music there."
Visit the New England Synthesizer Museum
The New England Synthesizer Museum is located in Nashua, New Hampshire, a 30 minute drive north of Boston, Massachusetts. If you want to visit the Museum, you need to make an appointment. Call Curator Dave Wilson at 603-881-8587 or email [email protected].
Also check out Dave's essay, "The Facts on Linear vs. Exponential".