Oberheim Instruments
DPX-1
Eight Voice
Four Voice
Matrix-6
Matrix-6R (rack-mounted Matrix-6)
Matrix-12
Matrix-1000
Mini Sequencer
OB-1
OB-8
OB-8K
Ober-M006
OB-Mx
OB-SX
OB-X
OB-Xa
OB-Xpander
Prommer
SEM
Six-Voice
Stretch-DX
Two Voice
Xpander


---


Two-Voice
Manufacturer:
Oberheim

Model:
Two Voice (model TVS-1A)

Production period:
1975-79

Quantity produced: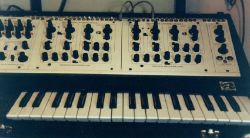 owner: The New England Synthesizer Museum, David Hillel Wilson, Curator

other synths in the New England Synthesizer Museum Collection
The inputs and outputs of the individual modules are available on the back of each SEM, and can be brought out to the top as shown in the picture; This is a customization available from the New England Synthesizer Museum if you have a 2-Voice.------ Dave Wilson
The Oberheim Two-Voice may have started out as just an incomplete Four Voice, with the space for two of its SEM voices left empty (and sold at half the price). In 1976, it seems, Oberheim built a dedicated case for their Two-Voice. The 3-octave 37-note (C-C) duophonic keyboard was originally (in the first 100 or so) a Pratt-Reed keyboard similar in design and function to the one found on the ARP 2600. It had a Transpose knob rather than the switch pair as on the later models. It was labeled "16 - 8 - 4 - 2", much like the Minimoog's octave switches. There was also a two position slider switch labeled "2nd Voice". When engaged, it did the same kind of "highest/lowest note" priority response as you would get out of the "duophonic" keyboard of the ARP 2600. Later models used a keyboard which was the same mechanically, but had a different motherboard, and of course the left hand control panel was replaced with its new digital electronics they got from E-Mu. Portamento can be set for either or both SEMs, along with basic pitch. The Two-Voice also offers a switch to choose which SEM plays first in duophonic mode.
Attached to the keyboard of most Two-Voices is an 8-step 2-voice sequencer (the "Mini-Sequencer") with a voltage-controlled clock and the ability to use sequencer voice 2 or the keyboard output to change the clock rate, letting you set up rhythms. Dual-concentric knobs give you control over SEQ 1 (for SEM 1) and SEQ 2 for (SEM 2). There is also a noise source and a sample-and-hold. Either SEM can be controlled by voltages from its sequencer, the sample-and-hold and keyboard voltages. Two-Voices which do not have this sequencer often have a joystick controller in its place.

[from The A-Z of Analogue Synthesizers, by Peter Forrest, published by Susurreal Publishing, Devon, England, copyright 1994 Peter Forrest] [with help from Joseph Swails and Dave Wilson]
Jean Micheal Jarre, Jason Faulkner ex-member Jelly Fish, Brian Kehew and Roger Manning of The Moog Cookbook, Masterworks, Vince Clarke, Vangelis
[Let us know if you have any further additions to this list.]