Oberheim Instruments
DPX-1
Eight Voice
Four Voice
Matrix-6
Matrix-6R (rack-mounted Matrix-6)
Matrix-12
Matrix-1000
Mini Sequencer
OB-1
OB-8
OB-8K
Ober-M006
OB-Mx
OB-SX
OB-X
OB-Xa
OB-Xpander
Prommer
SEM
Six-Voice
Stretch-DX
Two Voice
Xpander


---


Xpander
Manufacturer:
Oberheim

Model:
Xpander

Production period:
1984-88

Quantity produced:
approx. 2000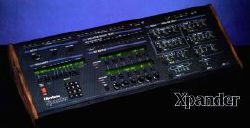 image courtesy of Kevin Lightner
The Xpander was Oberheim's first synth product that was designed from the ground up with MIDI in mind. It was a 6-voice, multitimbral analog synthesizer with an extremely flexible design. Each voice or group of voices could either be assigned to respond to a specific MIDI channel (1-16), to a specific keyboard range on a specific MIDI channel, or to any of 6 CV/Gate (1volt/octave) inputs. The output of each voice could be panned separately (7-positions) in the stereo output, or accessed individually through their own separate direct output. The Xpander also had a mono (summed stereo) output.
Each voice consisted of 2 VCOs (triangle, saw, pulse, or noise, VCO2 could be synced to VCO1), a multimode VCF (low-pass, band-pass, notch-pass, high-pass and four "combination" filter modes), and 4 VCA's (in line one after each oscillator and two after the VCF). FM of VCO1 and the VCF was possible via VCO1. The filters could also be set as 1-pole (6dB/octave), 2-pole (12dB/octave), 3-pole (18dB/octave), or 4-pole (24dB/octave). All oscillators and filters could be tuned by a handy auto-tuned routine. In addition to this basic synth engine, the Xpander had a number of separate modules that could be inserted in any modulation path. These include (5) LFO's with basic waves plus sample-and-hold and random functions, 3 tracking generators, 3 ramp generators, a lag processor (does not necessarily have to be used for portamento), and 1 additional global LFO to be used with the Mod Wheel.
You could store 100 program patches and then set up an additional 100 multi-timbre setups storing any of those patches on each of the 6 voices, panning them and assigning how each voice is controlled. Patches could be dumped to cassette or via MIDI sys-exe.
Michael Brecker, Vince Clarke, Steve Cunningham, Electronic Dream Planet (x2), Larry Fast, Baby Ford, Chris Franke of Tangerine Dream, Frontline Assembly, Front 242, Mitchell Froom, Gas Chamber Orchestra, Jan Hammer, Adam Holzman with Miles Davis on Tutu, Brian Kehew and Roger Manning of The Moog Cookbook, Human League, Jam El Mar, Willard E. Love, Mark Isham, Die Krupps, Patrick Leonard, Ian Levine of Phil Da Costa, Nitzer Ebb - used the Xpander exstensively on "Big Hit" and other albums, especially for percussion sounds, Orbital, Steve Porcaro, Propaganda, Stefan Reinert, Trent Reznor of Nine Inch Nails, Steve Roach, Shamen, Mark Shreeve, Tim Simenon, K-H Stockhausen - "Eve's Magic", Switzerland, Joe Zawinul
[Let us know if you have any further additions to this list.]