Oberheim Instruments
DPX-1
Eight Voice
Four Voice
Matrix-6
Matrix-6R (rack-mounted Matrix-6)
Matrix-12
Matrix-1000
Mini Sequencer
OB-1
OB-8
OB-8K
Ober-M006
OB-Mx
OB-SX
OB-X
OB-Xa
OB-Xpander
Prommer
SEM
Six-Voice
Stretch-DX
Two Voice
Xpander


---


Prommer
Manufacturer:
Oberheim

Model:
Prommer

Production period:
1983-85?

Quantity produced: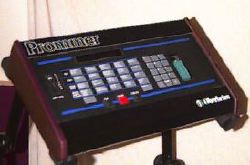 above photo from the collection of Joseph Rivers, Audio Playground, Orlando, FL
other synths in the Audio Playground Collection
Early sample-based drum machines such as the Oberheim DMX and the Sequential Circuits Drumtraks stored their sampled sounds on EPROM (Erasable Programmable Read-Only Memories) chips. The Oberheim Prommer was designed to allow DMX owners to sample their own drum sounds and then "burn" their own EPROMS to use their samples in the DMX. The Prommer was, in effect, a monophonic sampler, its single sampled sound could even be triggered by MIDI, or via Oberheim's pre-MIDI "parallel buss". The Prommer was 8-bit and it allowed different sampling rates, depending upon the rate of the drum machine you were going to use the resulting EPROM in. It also allowed very limited editing, such as reverse, ringmod and digital bit manipulation.