Sequential Circuits Instruments
Drumtraks
Fugue
Max
Multi-Trak
Model 800
(Sequencer)
Prelude
Pro-8
PRO-FX
Pro-One
Prophet-5
Prophet-10
Prophet-600
Prophet-2000
Prophet-3000
Prophet-T8
Prophet-VS
Remote
(remote controller keyboard for the Prophet-5)
Six-Trak
Split-8
Studio 440
Tom


---


Pro-One
Manufacturer:
Sequential Circuits

Model:
Pro-One

Production period:
1980-84

Quantity produced:
10,000



Also:
- Sequential ad featuring the Pro-One, courtesy of Benjamin Ward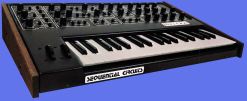 image courtesy of Kevin Lightner
The Pro-One is a monophonic, two oscillator synthesizer with a 3 octave, 37-note (C-C), keyboard. VCO1 is switchable between sawtooth and pulse waveforms (either or both) and can be synced to VCO2. (VCO1 and VCO2 are actually called "VCOA" and "VCOB".) VCO2 is switchable between sawtooth, triangle, or pulse waveforms (any or all) and has a switch to disable keyboard control. It can act as an LFO. The LFO can output a sawtooth, triangle or a square waveform and can be set to retrigger on key press.
The Pro-One has two envelope generators (ADSR), one for the VCF and one for the VCA. The VCF is 4-pole lowpass and will self-oscillate. The VCF has controls for frequency cutoff, resonance, envelope modulation amount, and keyboard follow amount. There is a filter input control which is a mixer for VCO1, VCO2, and noise or external audio in. The available modulation sources are Filter Envelope, VCO2, or LFO. These sources can modulate VCO1 frequency, VCO1 pulse width, VCO2 frequency, VCO2 pulse width, or the filter. The Pro-One has a 40-note dual sequencer with a volatile memory (the sequence is lost when you turn the instrument off) and an arpeggiator.
The keyboard is digitally scanned. The glide can be switched so it only glides when you press a key before releasing the previous key. There are controls wheels to the left of the keyboard which are pitch bend and modulation amount. There are two modulation busses, one is direct (non-attenuated) and the other can be attenuated by the mod wheel.
The back panel has audio out, external audio in, and CV/gate in and out. External audio in can also be used to generate a gate signal.
808 State, Akikaze on In High Places, Juan Atkins, Bizarre Inc, Boris Blank, Bronski Beat, Ian Catt, Suzanne Ciani, Vince Clarke, Cyberaktif, Depeche Mode, John Dyson of Wavestar, Electribe 101, Electronic Dream Planet, Fluke, Chris Franke of Tangerine Dream, Frontline Assembly, Pascal Gabriel, Dwayne Goetell of Skinny Puppy, Gas Chamber Orchestra, Groove Corporation, Greg Hawkes of the Cars on "Just What I Needed", Larry Heard, Liam Howlett of The Prodigy, Steve Jolliffe, Howard Jones, Sophie And Peter Johnston, Joy Division, Juno Reactor, Brian Kehew and Roger Manning of The Moog Cookbook, KMFDM, Die Krupps, LFO, Marillion, Madonna Wayne Gracy - of Marilyn Manson, New Order, Nine Inch Nails, Nitzer Ebb, Nort, Ozric Tentacles, Rhythmatic, Shamen, Synco MArk Shreeve, Tim Simenon of Bomb the Bass, Adrian Utley, Yazoo
[Let us know if you have any further additions to this list.]