Tom
Manufacturer:
Sequential

Model:
Tom (model 420)

Production period:


Quantity produced:




Also:
- A Sequential ad featuring the Tom courtesy of Benjamin Ward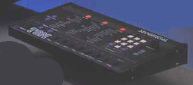 image from Sequential ad, courtesy of Benjamin Ward
"It is digital. It is a little grungy. It is a great noisemaker.
"This was one of the first drum machines to borrow sampler/synth technology in that the samples were dynamically allocated between voices (only 4, in this case) rather than hard-assigned to channels. This voice chip was the first custom chip we ever designed at Sequential. It gave [the] Tom the capability of playing up to four copies of the same sound at once, allowing overlapping cymbals, etc. It also followed up on the Drumtrax concept of programmable pitch and volume (and pan, although there was a limited number of positions), so (for example) the same tom sample at different pitches would overlap rather than cut it off. It had a huge pitch range on the sounds. It also allowed sounds to be played backwards - another rarity in drum machines at the time. As a result of this you got all sorts of very different sounds out of this box.
"I did the MIDI for Tom, and greatly expanded on ideas first tested in an update I made for the Drumtrax (which was my first project at Sequential). I allowed chords of drums to be played, chromatic playing of drums, the same samples to be played together with a slight delay to cause a deep flange sound, etc. One common trick was to set auto-repeat on with a very fast repeat, hold down a key for a drum, vary the volume with the mod wheel, and vary the pitch with the pitchbend wheel or lever. Matt Isaacson pioneered this technique; this is the root of the "ripping" and buzzsaw sounds you hear on some TackHead and Keith LeBlanc albums (I don't know if they used a Tom, but it was the first to allow this).
"I also created the electronic cartridge of sounds for it, patching many of them (esp. the kick and noise burst) up on an Oberheim 2-voice with a custom Gentle Electric outboard cabinet of VCA's, etc. I made some cool samples on that rig that don't appear on the cartridge, such as a really realistic wooden acoustic snare (discarded because the point of the cart was to sound electronic). Mark Isham used to use the cartridge (particularly on his album with Art Lande). I almost lost my hearing doing that cartridge; my ears were becoming so desensitized by the end of the project I had to keep turning the amp into realms never seen on that volume control knob before. To this day I am still overly sensitive to loud fast-transient sounds; my ears will start to click and "mute" when I listen to stuff like this.
"The model number for the Drumtrax was 400; the Tom was the 420. I went on to design the Studio 440 - numbered such because it was originally supposed to be a super-Tom (double the voices, two or three cart ports, etc.) I used to have the last Tom ever made. It had scrawled inside "This is the last one ever builted" [sic]. I sold it to Drew Neumann of Droomusic in LA (as I said, I am no longer a collector)."
[quoted from an Analogue Heaven posting by Chris Meyer at the archives at Hyperreal]