Moog Instruments
CDX(Moog Organ by Cordovox)
Liberation
Memorymoog
Micromoog
Minimoog
Minitmoog
Modular Moogs
Multimoog
Musonics Sonic V
Opus-3
Polymoog
Polymoog Keyboard
Prodigy
Concertmate MG-1 (Radio Shack)
Rogue
Sanctuary
Satellite
Sonic Six
Source
Taurus


---


Polymoog
Manufacturer:
Moog

Model:
Polymoog (model 203A)

Production period:
1975-80

Quantity produced:




Also:
- Erik G's Polymoog
- a Polymoog ad courtesy of Kevin Lightner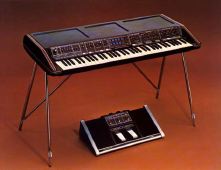 above image from a Polymoog brochure courtesy of Kevin Lightner
Highly popular when it came out, the Polymoog is a preset, polyphonic synthesizer with a 71-note (E-D), touch-sensitive keyboard that is splittable three ways. It features divide-down oscillator circuitry and, therefore, didn't sound as rich as most people wanted a polyphonic analog synthesizer (especially a Moog) to sound. The presets are strings, piano, organ, harpsichord, funk, clav, vibes, and brass. The optional (and expensive) Polypedal board allows you to switch between single and multiple triggering, as well as control the pitch, filter, sustain, and external sync. In addition to a main volume slider, the Polymoog has volume sliders for each of the 3 keyboard sections. It also features a 3-band graphic EQ section, and an extensive filter modulation section, allowing it to be modulated by its own LFO, sample-and-hold, and envelope sliders, with variable keyboard tracking.
[from The A-Z of Analogue Synthesizers, by Peter Forrest, published by Susurreal Publishing, Devon, England, copyright 1994 Peter Forrest]
Michael Boddicker, Chick Corea - on "Romantic Warrior", James (Jimmy) Destri of Blondie, Keith Emerson, Larry Fast, Jan Hammer, Jim Gilmore, Herbie Handcock, Brian Kehew and Roger Manning of The Moog Cookbook, Kraftwerk, LaBradford, Mark Mothersbaugh of Devo, Gary Numan used several Polymoogs in the video clip of "cars" (dated 1979) Richard Pinhas, Prince - '79 - '80, Klaus Schulze, Tom Shuman (Spyro Gyra) - used the MultiMoog, Richard Tandy of ELO, Rick Wakeman of Yes - on the album "Going for the One"
[Let us know if you have any further additions to this list.]