Moog Instruments
CDX(Moog Organ by Cordovox)
Liberation
Memorymoog
Micromoog
Minimoog
Minitmoog
Modular Moogs
Multimoog
Musonics Sonic V
Opus-3
Polymoog
Polymoog Keyboard
Prodigy
Concertmate MG-1 (Radio Shack)
Rogue
Sanctuary
Satellite
Sonic Six
Source
Taurus


---


Polymoog Keyboard
Manufacturer:
Moog

Model:
Polymoog Keyboard (model 280A)

Production period:
1978-80

Quantity produced: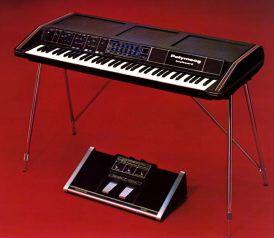 above image from a Polymoog brochure courtesy of Kevin Lightner
This is the stripped down version of the Polymoog. It allows much less control. As you can see from the picture the whole right half of the control panel is blank. Presets are Vox Humana (some say this preset is the best of them all), String 1, String 2, Electric Piano, Piano, Honky Tonky, Clav, Harpsi, Brass, Chorus Brass, Pipe Organ, Rock Organ, Vibes, and Funk (a full 6 more presets than the Polymoog).
Controls available are: pitch adjustment for both VCO's, main volume as well as volume for all three keyboard sections, highpass filter amount, and highpass filter center frequency (from 60-300Hz), modulation rate and amount, and attack.
[from The A-Z of Analogue Synthesizers, by Peter Forrest, published by Susurreal Publishing, Devon, England, copyright 1994 Peter Forrest]