GR-300
Manufacturer:
Roland

Model:
GR-300

Production period:


Quantity produced: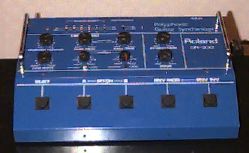 above photo from the collection of Joseph Rivers, Audio Playground, Orlando, FL
other synths in the Audio Playground Collection
The GR-300 was considered the first "playable" guitar synthesizer. (It's predecessor, the GR-500, was plagued with tracking problems that rendered it virtually unplayable.) The GR-300 had no MIDI and could only be played through a GR-300 series guitar controller.
The actual synthesizer module sat on the floor and had the rugged appearance of a large guitar-type foot pedal (complete with carrying handles). It featured 6-voice polyphony, one voice per string and 2 oscillators per voice. Each pair of VCOs were harmonically locked to each string but could be tuned separately to play different pitches. The GR-300 also featured a VCF with variable lengthsweep up and down, and an LFO. Each string had an enable-disable switch as well as a string sensitivity switch (basically audio compression). Built-in footswitches controlled the VCO mode (single/dual), the VCO harmonize pitch (detuning of the VCO's), and the VCF mode (on, bypass, or inverted). There was also a pedal control input for the VCF. The GR-300 could output either the guitar, the synth, or a mix of the two.
Adrian Belew of King Crimson, Robert Fripp of King Crimson, Alan Holdworth, J. Honaker, Journey, Pat Metheny, Andy Summers ofThe Police, Frank Zappa
[Let us know if you have any further additions to this list.]