Roland Instruments
Alpha-Juno 1
Alpha-Juno 2
Boss DR-55
Boss DR-110
Boss DR-660
CM-32L
CMU-800 CompuMusic
CMU-810
CR-68
CR-78
CSQ-100
CSQ-600
D-5
D-10
D-20
D-50
D-110
E-20
EM-101
GR-300
HS-10
JSQ Sequencers
Juno-6
Juno-60
Juno 106
Jupiter-4
Jupiter-6
Jupiter-8
JX-3P
JX-8P
JX-10 (Super JX)
MC-4
MC-8
MC-202 MicroComposer
MKS-7 Super Quartet
MKS-10 Planet-P
MKS-30 Planet-S
MKS-50
MKS-70 Super JX
MKS-80 Super Jupiter
MKS-100
MSQ-100 Sequencer
MSQ-700 Sequencer
MT-32
PG-200
PG-300
PG-800
Pro-Mars (MRS-2)
RS-09
RS-101
RS-202
RS-505 Paraphonic
S-5
S-10
S-330
S-550
Saturn 09 (SA-09)
SH-1
SH-2
SH-3
SH-5
SH-7
SH-09
SH-101
SH-1000
SH-2000
SPV-355
System 100
System 100m
System 700
TR-66
TB-303
TR-505
TR-606
TR-626
TR-707
TR-727
TR-808
TR-909
U-110
VP-330 Vocoder Plus



---


TB-303
Manufacturer:
Roland

Model:
TB-303

Production period:
1982-84

Quantity produced:




Also:
- William Blakeney's TB-303 and what he has to say about it, Daniele Marziali's TB-303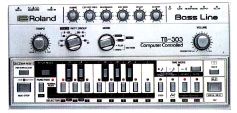 image courtesy of Kevin Lightner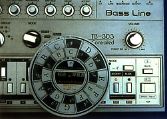 image courtesy of Benjamin Ward
"The TB-303 is a dedicated sequencer/bass-machine. It was originally released by Roland to be paired with the TR-606 drum machine. The idea was to provide an inexpensive substitute for a live drummer and bass player. The TR-606 outsold its bass counterpart considerably, and ironically the 303 is worth considerably more now. It does a pretty poor imitation of a bass guitar. The unit is drum-machine-sized (if you've seen a 606, it's the same case pretty much). It has buttons arranged in a keyboard configuration for entering pitches, plus various other buttons for editing sequences. There are knobs controlling the tuning, frequency cutoff, resonance, envelope amount and decay, plus volume and tempo. There is a DIN sync jack on the back for synchronization with the outside world (found on the 606, 808, 202, etc.). This is a 1-oscillator synth, with essentially a single EG. You can select either square or sawtooth waveforms. Programming sequences into it is extremely bizarre, and almost impossible to figure out if you don't have a manual (or someone to tell you how). You enter the pitches first, and then enter the durations in a second pass. You also go back and enter accents and slides later. Not exactly user-friendly. What is it about the 303 that gives it that mystical sound? Ask 6 people and you'll get 7 opinions. Reasons I've heard or proposed (although I don't agree with all of them):
the filter is a 3-pole filter, which has a unique sound
there's something screwy going on with the resonance in there
the accent alters the resonance amount and envelope too, not just the volume.
the slide feature is totally unlike regular portamento and can't be emulated.
the sequencer's screwy interface makes you accidentally enter bizarre lines.
I personally think the sequencer is key, especially the slide. Yes, the synth has a unique sound, but it's not much by itself." ----Matt Haines, from the archives at Hyperreal



2 Unlimited, 808 State, A Positive Life, Acid Junkies, Acid Rockers, Air Liquide, Alec Empire, Antiloop, Dave Angel, The Aphex Twin, John Bell (Captain Tinrib), Apoptygma Berzerk, Astral Project B.S.E., Barney Arthur, Jeff 'Skunk' Baxter, Beatmasters, The Beloved, Biochip C., Bizarre Inc, The Black Dog, Ron Boots, Cabaret Voltaire, A Certain Ratio, Coldcut, D.A.V.E., DDR, DJ Jazzy Jeff, Dreadzone, The Drummer, Eat Static, Earthbound, Ege Bam Yasi, Electribe 101, Electronic Dream Planet, FatBoy Slim, Frontline Assembly, Future Sound of London, Laurent Garnier, The Grid, A Guy Called Gerald, Groove Corporation, Haircut 100, Hardfloor, Paul Harding, Simon Harris, Richie Hawtin, HIA, Hit Squad, Human League, CJ Imperium, Lawrie Immersion, Marshall Jefferson of DJ Pierre, Guy McGaffer, Kraftwerk, KLF KMFDM, Michael Law, LFO, Chris Liberator, Loaded, The Madness, Man Machine, Man With No Name, Massive Attack, Mega 'Lo Mainia, Moby, Motiv8, Mulligan, Mushroom of Massive Attack, Nostrum, Nello, The Orb, Orbital, The Other two, Ozric Tentacles, Planet 4 Records, Ian Pooley, The Prodigy, Rhythmatic, Tom Robinson, Rowland The Bastard, Scooter, Sabres of Paradise, Kevin Saunderson, Shades of Rhythm, Insom Shalom, Shamen, Tim Simenon, Sky Cries Mary, Kris Needs, Sonic Subjunkies, Steve Smitten, Squarepusher, Switzerland, Thompson Twins Mark Tyler, Ultramarine, Ultra-Sonic, Ultraviolet, Underground Resistance, Underworld, Josh Wink>

[Let us know if you have any further additions to this list.]