Roland Instruments
Alpha-Juno 1
Alpha-Juno 2
Boss DR-55
Boss DR-110
Boss DR-660
CM-32L
CMU-800 CompuMusic
CMU-810
CR-68
CR-78
CSQ-100
CSQ-600
D-5
D-10
D-20
D-50
D-110
E-20
EM-101
GR-300
HS-10
JSQ Sequencers
Juno-6
Juno-60
Juno 106
Jupiter-4
Jupiter-6
Jupiter-8
JX-3P
JX-8P
JX-10 (Super JX)
MC-4
MC-8
MC-202 MicroComposer
MKS-7 Super Quartet
MKS-10 Planet-P
MKS-30 Planet-S
MKS-50
MKS-70 Super JX
MKS-80 Super Jupiter
MKS-100
MSQ-100 Sequencer
MSQ-700 Sequencer
MT-32
PG-200
PG-300
PG-800
Pro-Mars (MRS-2)
RS-09
RS-101
RS-202
RS-505 Paraphonic
S-5
S-10
S-330
S-550
Saturn 09 (SA-09)
SH-1
SH-2
SH-3
SH-5
SH-7
SH-09
SH-101
SH-1000
SH-2000
SPV-355
System 100
System 100m
System 700
TR-66
TB-303
TR-505
TR-606
TR-626
TR-707
TR-727
TR-808
TR-909
U-110
VP-330 Vocoder Plus



---


Juno-6
Manufacturer:
Roland

Model:
Juno-6

Production period:
1982-84

Quantity produced:
30,000 (combined sales of Juno-6 and Juno-60)



Also:
Daniele Marziali's - Juno-6,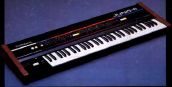 image courtesy of Benjamin Ward
The Juno-6 is a 6-voice polyphonic, digital oscillator, analog keyboard with a 5-octave, 61-note (C-C) keyboard. Though it only has one DCO per voice, it is said to have a warm and full sound. The DCO is switchable between any or all of the following waveforms: Pulse (with pulse-width modulation from either the LFO or the ADSR), sawtooth, and a sub-oscillator (square wave). White noise could also be mixed in with the oscillators. Each voice has its own VCF with a continuously variable control for keyboard follow, and an input on the back panel for voltage control. There is also a separate high-pass filter. The LFO features controls for rate and delay, as well as a switch that toggles between two modes, auto (modulation starts when set delay time has passed) and manual (modulation starts when the LFO trigger button, next to the mod wheels on the performance panel, is pressed). Only one envelope generator (ADSR) is available for both the DCOs and the VCOs. The Juno-6 featured an arpeggiator with controls for mode, range, and rate with a clock input on the back panel, and a chorus with two buttons, each button adding more chorus. In addition to arpeggiator and filter control inputs, the back panel also had both mono and stereo outputs, a headphone jack, and a sustain/hold pedal input.
About a year later Roland came out with the Juno-60, a programmable Juno-6 with 56 memory locations, their proprietary DCB interface, and a cassette interface.
Aurora, Barney Arthur, Banco De Gala, Beatmasters, Bizarre Inc., John Dylan, EMF, The Grid, The Gift, Larry Heard, Steve Joliffe, Howard Jones, Die Krupps, Michael Law, Level 42 of Wally Badarou, LFO, Flock of Seagulls, Mark White of ABC
[Let us know if you have any further additions to this list.]